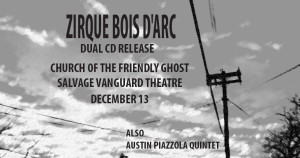 On December 13, Church of the Friendly Ghost (at Salvage Vanguard Theatre) will present the release party for the first two Zirque Bois d'Arc records!
Here's the Facebook event page.
Selections from Things I Should've Done Better will be performed by Zirque, Peter Stopschinski on Keys, Sam Arnold on Bass, and David Hobizal on Drums
Selections from Songs About Russia will be performed by Zirque with Shelly Leuzinger and Evie Gladish.
There will also be a performance by Ralph White and other special guests!
more details to come….