Things I Should've Done Better
full release November 1, 2015
"And now that you don't have to be perfect, you can be good." ― John Steinbeck
Zirque Bois d'Arc is the alter-ego of longtime Austin, TX sideman (and occasional frontman) Eric Roach. From the 90s bluegrassy stylings of The Fencesitters, to current rock and progressive stalwarts Lick Lick and Baby Got Bacteria, Eric has been a contributing member of over 100 live acts since attending high school in Austin in the 1980s.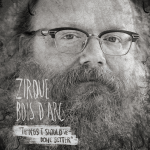 Things I Should've Done Better is a guitar led exploration of thriving in a dystopian universe. Written in a two day flurry on Venice Beach, and recorded over the next year, the CD features performances from Sam Arnold, David Hobizal, Pat Kennedy, Chuck Fisher, Matt Kelly and Peter Stopschinski as well as horn arrangements by Sam Arnold and string arrangements by Grammy Award winner Peter Stopschinski.
If you like the instrumental approach of Jeff Beck and his peers, but are looking for a more modern musical approach – or just new tunes – you will like this record.
Send me your mailing address, and I'll send you a copy!
Track List: (recommended)
1 crunch 2:38 mid tempo rocker with a crunchy groove
2 ggggggg 2:38 country instrumental for the 21st century
3 news 3:25 ZZ top swank mixed with BB King strings
4 drawer 1:31 quick musical interlude with dystopian slide
5 girls 1:52 a seductive groove that's as confusing at is it sublime
6 small 3:22 dramatic setting with evil strings and synths
7 drive 3:29 new orleans groove snatched from intro drum solo
8 shinng 4:39 heavily chromatic, dynamic interplay, deep groove
9 asdf 0:56 short sweet ode to 60s blues instrumentals
10 flirt 1:46 quick little ditty with high stuttered fret work
11 demos 3:32 mid tempo burner, space and horns
12 wavey 4:01 double drummers, mercy-beat rocker
13 sx 1:56 fleet fingered figure in 7/8
14 own 1:42 4 parts of a polite conversation, all at once
15 grande 1:45 big bold statement descending into chaos
Here's a video for the fourth track, drawer.
Zirque Bois d'Arc (Eric Roach)
1008 W. Annie St.
Austin, TX 78704
www.zirque.com
(512) 497-5177
eric.roach@gmail.com
Electronic Press Kit