Hey – the day has arrived! The Fence Cutters album, Extended Play, is now available on all major streaming services like Spotify – worldwide – and downloads and physical CDs are for sale through CD Baby.
Our sophomore record started off with another long weekend at The Library, Allan Gill's studio in East Austin, with Jeremiah Ball at the controls. If memory serves, we recorded about 30 songs there, then, re-recorded some and mixed everything over at Barbara Kay's studio in Tarrytown. The three biggest changes are

we changed our name (back) to The Fence Cutters
we discovered electricity
we added, changed, and deleted some stuff (the first album was all live)
It was fun, there's some great picking, and and I'm proud of the record.
Some day I hope to listen to the other 21 tracks – I have the DA38s with all the original tracks on them, but can't find the rough mixes, and it makes me blue. Oh well. Another project.
By this time we were playing every Sunday at Lovejoys for a couple of hours. That being an open jam, we were getting pretty good at picking and singing and going with the flow. We were exposed to lots of material that we never would've played otherwise and got to play with lots of good friends like Heather and Rick and Japhy and probably you. I miss those jams. I miss being able to drink that beer.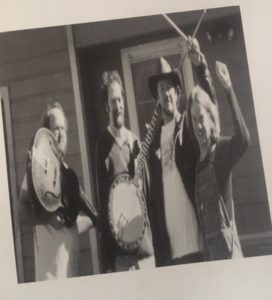 As we discovered electricity, we were much more listening to a lot of Music from Big Pink and Latin Playboys, although we still sound like latter day Delmore Brothers. The lady at whatever that bluegrass show on KUT was told us after an interview that she loved our "radio song" but wouldn't play it because of the static at the beginning. Ha. We are good at business. The Butthole Surfers had been a world famous band for 20 years, but a little bit of artsy static gets us blackballed.
Anyways…
The Band was me, Tim, Shelly, and Chip, with Joe Ridout on Guitarron, Dave Heath on Electric Bass, and Merrideth Jiles on Upright. Denman Shelton and Dave Sugeno came in for some harmonies.
Extended Play by The Fence Cutters
1 – "Bring Back My Radio"
The static at the beginning was a little bit of radio static, mixed with one of the songs we recorded, but didn't mix or put on the album – you can hear Tim singing "Amistad came down" before the guitar lick. I played Tim's Telecaster (currently mine), and we recorded this track fully at Barbara Kay's place. Our friend Dave Heath played the bass. I had read the Stan Ridgway chapter in the book Songwriters on Songwriting, and it inspired the song's first hook, and then Tim added in some verses. I like my solo – it's kind of funny – all over the place.
2 – "Lonesome and Low"
Shelly's first songwriting credit, I believe – a damn fine song. This was a live take from The Library with no overdubs. I always liked the harmony guitar playing the riff, and the way the electric and acoustic guitars blend. Then I use the "Wang Dang Doodle" lick – ha! Damn beautiful lyrics from Shelly – "can;t you hear the bones snap and tear?"
3 – "Libby, TX"
Another artsy touch – maybe more fartsy than artsy – this is a solo piece I had written years before, and the only time I ever played it was at a funeral for a child on a hillside at a church near the intersection of Farm Road 1878 and Farm Road 95 about ten miles from the house I grew up in. It seemed like a good lead in to…
4 – "Silas Lee"
Dave Sugeno and I wrote this and turned it over to Shelly to sing. I had been listening to a lot of Delmore Brothers, and they have this one song where (as I recall) an orphan freezes right outside the door, and that was sad, but I thought maybe I could make something more miserable. I like the upbeatness and aggression of the music paired with the open-ended sense of loss in the lyrics. I get good bumps every time we kick into that harmony at the end, and I hope you do, too.
5 – "Johnny Appleseed"
I always liked the legend of Johnny Appleseed – it is, to me, the definition of leadership by example. In Boy Scouts, we were admonished to leave a camp area (or any area we used) in better shape than we found it, and I guess that message settled into my juvenile mind. Then I wrote this weird-ass song about some immortal being who needs to get on with his task. Super cool lap steel from Tim, and Dave Sugeno and Denman Shelton added extra creepy loneliness to the harmony chorus. This might be the nicest recording of my 1953 Epiphone Archtop – great work, Jeremiah! Aielli would often play this track on Johnny Appleseed day, so for at least a few years, it lived on. I love that banjo lick.
6 – "Cannon Ball"
Not sure what this song is about, but it was so fun to play – every time. I sure did like singing those harmonies. Not so subtle The Band homage in the bridge. One of Dave Grissom's ES335s was in the studio, so we asked if we could play it, and man it sounds good on that solo. This stayed in our live set for a very long time.
7 – "Searching for an Angel"
Live track from the original Library session, this tune by our friend John Howard is perfect, and the performance was sublime – Tim and Shelly sound so beautiful together, and then my guitar solo almost ruins everything. But it doesn't, so whew – thank you Red Stratocaster.
8 – "El Paso"
This fantastic Marty-Robbinsesque tune by Tim is also perfect. I don't want to say too much because of spoilers. I played pedal steel on a couple of the Library tracks, but only this one made the final cut.
9 – "Way out West"
We recorded horses from some John Wayne movie and the Mustang from Bullet on our mini-disc and then crafted the intro. Fantastic upright playing by Merrideth – exactly what this tale of teenagers being jerks needed. I always wanted to call and response a guitar solo, and it worked ok. I remember many Sundays at Lovejoys it seemed like the whole bar would join in on the refrain. If I had a time machine, I would probably go check that out.
That's it – thanks for listening along – you can subscribe to my periodic email on the right nav, or read more about The Fence Cutters. Horses and Asses will be released on August 28!