Zirque Bois d'Arc is the alter-ego of longtime Austin, TX sideman (and occasional frontman) Eric Roach. From the 90s bluegrassy stylings of The Fencesitters to current rock and progressive stalwarts Lick Lick and Baby Got Bacteria, Eric has been a contributing member of over 100 live acts since attending high school in Austin in the 1980s.
On April 1, 2016 (Zirque's Birthday) the third Zirque Bois d'Arc album The Fall Will Probably Kill You, a selection of solo guitar instrumentals in the tradition of John Fahey and others, was released. This follows the first two Zirque releases from November of 2015, Things I Should've Done Better, a guitar driven instrumental album, and Songs About Russia, a collection of modern folk tunes ostensibly written about Russia. (scroll down for more album info)
Eric Roach (click on image for high-res) is a musical journeyman with 3 decades experience playing a variety of instruments and genres on Austin stages. Starting with his high school bands Halsey Taylor and The Larrys (who recorded the 1985 7″ Twistin' By The Fridge at Earth and Sky Studio and opened for The Big Boys, Glass Eye and many other seminal Austin acts) through today he has played in dozens of live musical acts, notably The Wampus Cats (with Amy Tiven and George Brainard), The Fencesitters (aka The Fencecutters – 4 self-produced albums), Alfalfa Male, The Stupor Friends, The Passed Out Flyers, Cave Bees, Pinkie Sworn, Chablis, Lick Lick (4 albums on Australian Cattle God Records and one awesome tour of Japan), and Baby Got Bacteria (who released their debut album, Boo, in May 2017).
Baby Got Bacteria offshoot Eat The Taco received a Best New Live Act nod in the 2014 Austin Chronicle critics poll and Eric's performance with the bar band in the play 100 Heartbreaks garnered a nomination for Outstanding Featured Musical Performance in the 2015 B. Iden Payne awards. In addition to his dozen or so current bands, he is currently working on writing, recording, and performing projects with local composer Peter Stopschinski, including A Catalogue of Spiderfarts and Wank Tribe, among others.
Raised in East Texas (Nacogdoches) and shipped off to boarding school in Austin (St. Stephens), Eric was surrounded by music from an early age. His English Professor father, Bruce Roach, played all instruments he could imagine, and indeed spent much of his free time building instruments – electric mandolins, mbiras, Native-American flutes (out of broomsticks and PVC pipe), and he once made a fiddle from a Prince Albert Tobacco can. Eric's mother (East Texas real estate genius Gay Roach) patiently accompanied him as he learned his junior-high school UIL Tuba solos.
After high school at St. Stephens, Eric went off to engineering school at Tufts University in Boston for a year and finished up his college years at Stephen F. Austin State University (where he played in well-regarded local blues band Cold Shot) with a BFA in Theatre Performance. After graduating Eric spent a few years in Portland, OR and played with Mel Solomon and the Nightlighters, JC Rico's Excalibur, and was a constant fixture on the electric blues scene.
Eric counts among his influences Lightnin' Hopkins, Jimi Hendrix, Tim Kerr, D Boon, Robert Fripp, Ry Cooder and many others, and (occasionally) updates his Autoguitargraphy on Soundcloud with tidbits about how and why guitar players and other influences have caught his ear.
After a brief stint at Toy Joy in the 1990's Eric was one of the owners of Austin Homebrew Supply, and has since moved through a number of high-tech start-ups and other companies in Austin, with a general business focus on content, marketing, sales, operations, and getting shit done. Eric lives in South Austin with his cat Isabella, and not nearly enough guitars. He is also grateful for his loaner piano (thanks Lana!).
The Fall Will Probably Kill You
digital release April 1, 2016
Butch Cassidy: What's the matter with you?
Sundance Kid: I can't swim.
Butch Cassidy: Are you crazy? The fall will probably kill you. — William Goldman
The Fall Will Probably Kill You is a solo guitar record of original tunes recorded over July 4th weekend 2015 while watching a bunch of classic movies. All tracks were played on Eric's 2015 Creston Lea Spruce Triple plugged straight into Eric's 2000 Fulton Webb Amp. Recorded, mixed and mastered at home, with some assistance from Chico Jones at Ohm Studio in Austin, TX. I made two edits, else wise everything is live as it was performed.
If you like John Fahey, Marisa Anderson and William Tyler you will like this record.
The Fall Will Probably Kill You is available online at the normal places like Spotify, iTunes, etc.
Click here for track information.
Songs About Russia
November 15, 2015
"Don't tell me the moon is shining; show me the glint of light on broken glass." ― Anton Chekhov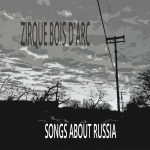 Songs About Russia (click on image for high-res) is a collection of simple songs, written by Zirque in the Spring of 2013, with spare acoustic arrangements, and performed with tight three-part harmonies. This album was recorded by Grammy-nominated producer Cisco Gilliland and features Shelly Leuzinger and Evie Gladish on harmony vocals.
If you like modern songwriting hearkening distant time and faraway places, a la Gillian Welch or Mountain Man, you will like this album.
Songs About Russia is available online at the normal places, and physical copies are available through CD Baby.
Click here for track information.
Here's a Promo Video for Gilyaks #2:

Things I Should've Done Better
November 1, 2015
"And now that you don't have to be perfect, you can be good." ― John Steinbeck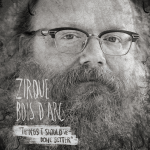 Things I Should've Done Better (click on image for high-res) is a guitar led exploration of thriving in a dystopian universe. Written in a two day flurry on Venice Beach, and recorded over the next year, the CD features performances from Sam Arnold, David Hobizal, Pat Kennedy, Chuck Fisher, Matt Kelly and Peter Stopschinski as well as horn arrangements by Sam Arnold and string arrangements by Grammy Award winner Peter Stopschinski.
If you like the instrumental approach of Jeff Beck and his peers, but are looking for a more modern musical approach – or just new tunes – you will like this record.
Listening to @topochico's Things I Should've Done Better right now. Hypnotic guitar sounds like no other!

— Zachary Nathanson (@ZNathanson) November 13, 2015
Things I Should've Done Better is available online at the normal places (spotify, itunes), and physical copies are available through CD Baby.
Click here for track information.
Here's a promo video for Drawer:

Zirque Bois d'Arc (Eric Roach)
Facebook
@zirqueboisdarc on twitter
tumblr
instagram
youtube